Directions to Csonka's
Larry Csonka's is on RT45 about 2 miles north of Lisbon. you can get there several ways.

1) Easy but long: Go through Rogers Ohio (right past the flea market). You will come to a "T" turn right to Lisbon, it's about 3 miles to RT 45. You will be about 3 miles south of Csonka's.

2) Go to Columbiana and get onto RT 11 South, you can get off at RT 30 for Lisbon.

3) Shortest, fastest but tricky. Go into East Palestine. South on the main st. to RT 558/46 Go West about 4 or 5 miles. RT 558, "T's" on left. Take it. You will cross RT 7 (only red light) Right after that Route 517 splits from 588 at a Y, take it ( to the left ). You will then run all the way to RT 45, turn right it will be about 2 miles up on the left.
Here is what Scott Tady of the Beaver County Times had to say about the Desperado Band.
The guys in Desperado don't look like country music stars. "We're not spring chickens, or male models," said lead guitarist Bryan Michaels. But when Michaels, drummer Steve Hamrik and the Gillespie brothers - John and Joe -
plug in their instruments and start playing, you might think they deserve at least a little fame.

With a polished groove accented by three- and four-part harmonies, Desperado actually sounds better than a lot of what's coming out of Nashville these days. Local country music fans can hear for themselves Saturday, when Desperado performs at the 19th Hole, 312 Blackhawk Road, Chippewa Township. That 9:30 p.m. show marks just the second Beaver County appearance by the 15-month-old band, which features South Beaver Township resident John Gillespie on vocals and his Patterson Township brother, Joe, on rhythm guitar, bass, keyboards and vocals. Michaels and Hamrik hail from Trumbull County, Ohio.

With dates booked through June, Desperado has easily found steady work in the northeast Ohio bar and club circuit, but Beaver County has been a tougher market to crack, Michaels says. After Saturday's 19th Hole show, Desperado will play March 24 at the Highland Area VFW club in Chippewa, April 6 at Armando's in Rochester Township and July 21 at the
Midway Bar in Potter Township. Rehearsing recently in the basement of John Gillespie, who owns Gillespie's Auto
Service in Beaver, the band sounded relaxed and raring to go, displaying an impressive command of country songs by the likes of Kenny Chesney, Montgomery Gentry and Alabama.
Naturally, the quartet also does the Eagles' "Desperado," from which the group takes its name.

Desperado formed in October 1999 with the belief that local country fans would enjoy hearing a group that can play hit songs note for note while adding their own unique vocal
flair. On Yankee Grey's "All Things Considered," for instance, the two Gillespies and Michaels take turns singing the lead, giving the effect of the song bouncing across the stage. "Between the two (Gillespies) of us, we'll cover four octaves," John said. A relative latecomer to the performance scene, John Gillespie took vocal lessons while at Ellwood City High School, but never belonged in a country band before joining Desperado last May.

Joe Gillespie previously had kicked around with local country bands such as Double Dealin', Bandit and Apache Junction. Spectators at Saturday's show can expect to hear a few original songs penned by Joe Gillespie, including the radio-friendly "Walk the Line," which bears no relation to the similarly titled Johnny Cash tune.

One of Desperado's biggest strengths is its members' ability to learn hit songs quickly,
John Gillespie says.

Scott Tady can be reached online at stady@calkinsnewspapers.com.
Friday, February 2, 2001

If you like to line dance, you'll love our band!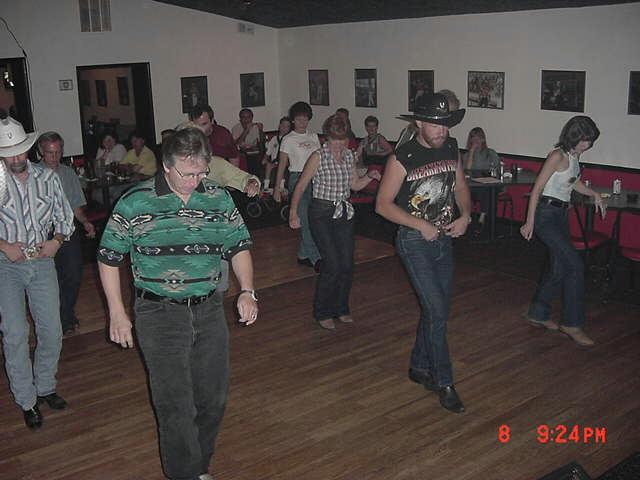 Walker's Soaring Eagles take the floor at Ponderosa Park. These folks put on a great show of their own and are a treat to watch!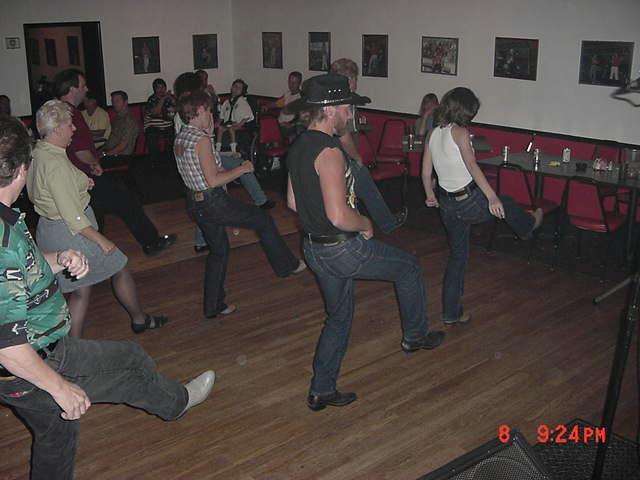 Enter subhead content here